Washington: Facebook Chief Executive Mark Zuckerberg faced criticism on Tuesday from senators over the handling of personal data in a Capitol Hill hearing that has amounted to a reckoning on how technology companies obtain and profit from personal data.
"Let me just cut to the chase. If you and other social media companies do not get your act in order, none of us are going to have any privacy anymore," Senator Bill Nelson, told Zuckerberg, who was making his first appearance on Capitol Hill, underscoring the severity of Facebook's crisis.
Clad in a dark suit and bright blue tie rather than his signature gray T-shirt, Zuckerberg offered contrition for his company's mishandling of personal information from up to 87 million unsuspecting Facebook users that landed in the hands of Cambridge Analytica, a political consulting firm that worked on the Donald Trump campaign.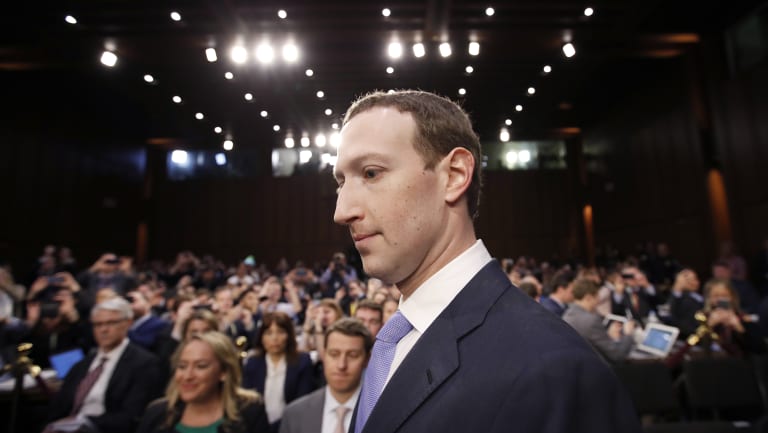 His opening statement closely mirrored prepared remarks that circulated on Monday.
"We didn't take a broad enough view of our responsibility, and that was a big mistake. It was my mistake, and I'm sorry," Zuckerberg said.
But pressed on whether Facebook should be regulated more, Zuckerberg said only the "right regulations."
The billionaire tech executive is also scheduled to appear before the House Energy and Commerce Committee on Wednesday.
The congressional grilling adds to the mounting difficulties at the Menlo Park, California, company, which has been on the defense since it downplayed the effect of Russian interference on its platform during the 2016 presidential election.
The Cambridge Analytica scandal has also resulted in a new Federal Trade Commission investigation looking into whether Facebook violated a 2011 consent decree requiring the company to properly inform users about changes to their privacy settings.
Lines formed early on Capitol Hill to see Facebook CEO Mark Zuckerberg face a grilling over the privacy scandal engulfing the social network giant he helped create.
The biggest threat to Facebook, however, would be new regulations that challenge the company's lifeblood: access to increasing amounts of personal data from its 2 billion users.
That's necessary, Zuckerberg argued, to support Facebook's ad-supported business model.
"We want to offer a free service anyone can afford," Zuckerberg told the lawmakers. "It's the only way we can reach billions of people."
Rather than wait for regulation, Facebook in recent days has announced a slew of changes aimed at boosting transparency for users and limiting how much data are accessible to outside apps. Zuckerberg has also expressed support for the Honest Ads Act, a bipartisan proposal to apply the same disclosure rules to political ads online as those on television or print media.
It remains to be seen whether the regulation-averse Republican Party has an appetite for reining in Facebook with new laws.
"We don't want to overregulate where we're stifling innovation and investment," said Senator Roger Wicker.
Senator Lindsey Graham, however, challenged Zuckerberg on the issue of competition, asking the executive if he thought Facebook was a monopoly.
"It certainly doesn't feel that way to me," Zuckerberg said, eliciting chuckles in the room.
Asked if new privacy rules in Europe were appropriate, Zuckerberg responded, "I think they get things right," drawing even more laughter.
Despite pledges by Zuckerberg to increase transparency, Senator Richard Blumenthal, said Facebook's business model would always favor data collection over user privacy and security without legislation.
"We've seen the apology tours before," Blumenthal said. "I don't see how you can change your business model unless there are specific rules of the road."
Zuckerberg was pressed by several lawmakers about whether the company would consider adopting a subscription business model, rather than a free service supported by advertising. He did not rule out a subscription model but said Facebook would always offer a free service to reach the broadest possible audience.
Zuckerberg was asked on several occasions why the company did not notify users whose data were harvested by Cambridge Analytica sooner (the company began alerting those affected Monday). Zuckerberg admitted that was a mistake and Facebook should have disclosed the breach shortly after.
When Senator Amy Klobuchar, who introduced the Honest Ads Act, asked Zuckerberg if he would support a law that requires companies such as Facebook to notify users about such breaches within 72 hours, the executive said, "That makes sense to me."
Zuckerberg showed signs of frustration more than two hours into the hearing after Senator Ted Cruz, asked pointed questions about whether Facebook had a liberal bias.
"There are a great many of Americans deeply concerned Facebook and other tech companies are engaged in a pervasive pattern of bias and political censorship," Cruz said.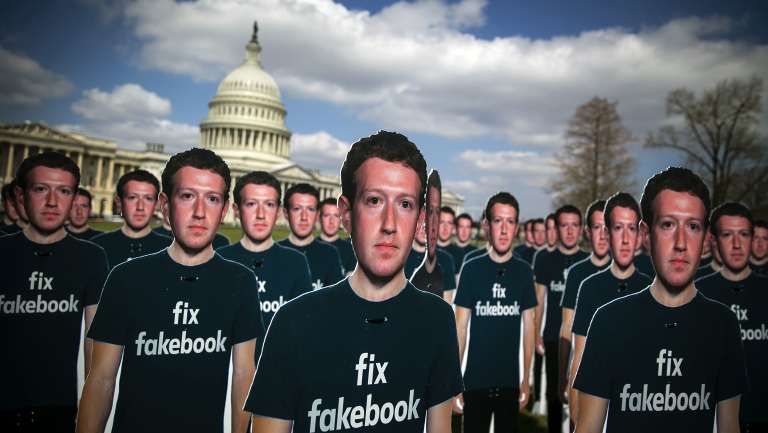 Zuckerberg said Facebook was a platform for all ideas and dismissed a suggestion from Cruz that conservatives were not getting hired at the company. He said Facebook did not fire Oculus VR founder Palmer Luckey because of his political ideology, but would not elaborate on the reason for the termination.
Senator Christopher Coons, raised an inherent tension with open platforms such as Facebook: They're too large to effectively police at the fringes.
Citing an erroneous photograph he discovered of himself that was being shared on Facebook, Coons asked why the onus was on users to flag problematic content rather than the company itself.
"Isn't it Facebook's job to better protect users?" Coons asked.
Zuckerberg admitted it was a problem, but one the company has successfully addressed when it comes to content linked to terrorist groups through the use of algorithms powered by artificial intelligence.
"It's clear this is an area we need to be a lot better on over time," Zuckerberg said. "More of this content is flagged up front by AI tools."
Zuckerberg was pressed by senators about the spread of misinformation and hate speech on Facebook in Myanmar that was fuelling additional violence against the Southeast Asian nation's Rohingya minority group. Zuckerberg said the company was hiring more Burmese speakers to flag objectionable content.
Zuckerberg also confirmed that Facebook employees were cooperating with special counsel Robert S. Mueller III's investigation of Russian election meddling. Zuckerberg, however, said he was not personally questioned.
In response to a question by Senator Dean Heller, Zuckerberg said Facebook was more responsible with the personal data of millions of Americans than the federal government would be.
When Heller asked whether Zuckerberg believed that having to sit before the committee made him a victim, he answered, "No."
When pressed on whether he believed the 87 million Facebook users whose data had been misused by Cambridge Analytica were victims, Zuckerberg hesitated before responding.
"Yes … they did not want their data sold to Cambridge Analytica," Zuckerberg said.
Staying on the subject of Cambridge Analytica, Sen. Kamala Harris, asked Zuckerberg why Facebook failed to inform users of the data firm's mishandling of user information in 2015. Zuckerberg said the company had wrongly believed Cambridge Analytica when it said it had deleted the data, and "in retrospect it was a mistake."
Senator John Kennedy, told Zuckerberg that Facebook's user agreement "sucks."
"The purpose (of the user agreement) is to cover Facebook's rear end, it's not to inform users of their rights – you know that, I know that." Kennedy said. "I suggest you go back and rewrite it."
---
TNS
27322
0
0
cookie-check
Zuckerberg pressed on Facebook's data practices, terms of service